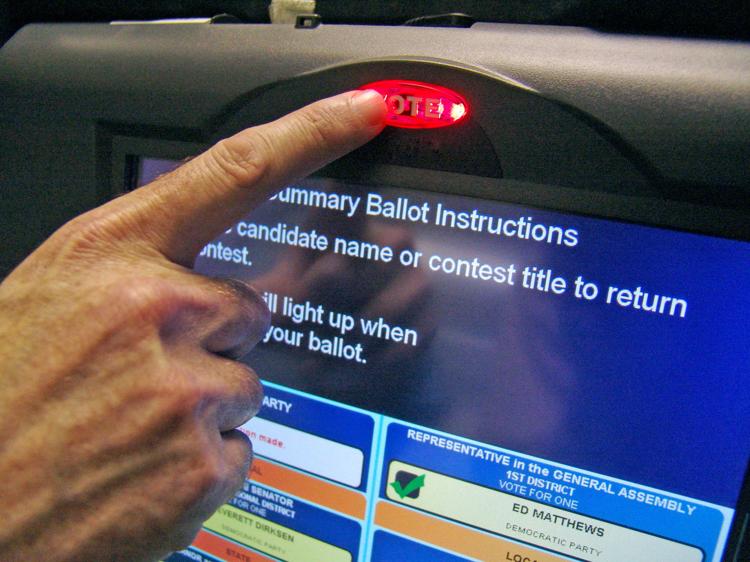 MERCER — Since the 2016 presidential election, there have been rampant allegations that voting machines like those used in Mercer County could be vulnerable to hacking that could affect the outcome of elections.
Those fears intensified in July, when participants at a hacking convention in Las Vegas breached the defenses of several voting machines. In a July USA Today report, hackers managed to "RickRoll" the vote by programming a device to play "Never Gonna Give You Up," a 1987 hit song by British pop star Rick Astley that has become a popular internet prank.
With news like that, it wouldn't be a surprise if Jeff Greenburg, director of Mercer County Voter Registration and Election Bureau, were a little nervous ahead of the Nov. 7 elections.
But he's not.
Greenburg said the July exercise, held during the DefCon national hackers' convention, was under ideal conditions for the hackers. It would be a different issue to physically break into a machine on Election Day and infect it with a virus that could change voting results, he said.
"A hacker won't have all the time in the world to do whatever they want," he said. "Part of the problem is, it's not a real-world test."
The most glaring vulnerability of voting machines is in their access to the internet, said Greenburg. Mercer's machines are never connected to the internet, or even to other machines that are connected to the internet.
The devices are not WiFi capable, and the Personalized Electronic Ballot drives, which transfer and compile election data, are used only in the voting machines and a device, which is also isolated from the internet, in Mercer County's election office.
That data is transferred from the isolated machine to an internet-accessible computer via "sneakernet" with a new thumb drive, which is never again plugged into the secure machine. The internet-accessible computer is then used to upload results online for public viewing.
The process, Greenburg said, ensures that the county's election process cannot be remotely hacked. And physical hacking wouldn't be easy either.
The would-be hacker would have to remove a panel and tinker with the innards — all with poll workers and a constable a few feet away. Even if someone managed to get that far, successfully attacking an election machine would require knowing the device's qualification code, which changes every election.
Failure to input the proper code would cause the machine to shut down, Greenburg said.
While Greenburg admits he isn't an expert, he said talking with experts leaves him comfortable with the security of Mercer County's process.
He's equally comfortable with his department's preparations for the upcoming election.
"The internal preparation for this election has been about as quiet and smooth as I've ever seen," he said. "It just feels like it's too smooth."
Based on figures from 2013 and 2009, the last two similar election cycles — municipal voting without county commissioner elections — Greenburg said he expects turnout to be in the 25 to 30 percent range, although the absence of competitive races could push that figure down.
Mercer County has only 16 races with more candidates than seats available. That includes the county treasurer's contest between Republican Amber White and Democrat Lucy Nicastro.
The two candidates are vying for the office now held by Ginny Steese Richardson, who is retiring.
Other competitive races include Jamestown and Grove City Area school districts, Hermitage city commissioners, Greenville council, and a Shenango Valley district judgeship, according to county ballot records.
Greenburg said the paucity of candidates appears to have become more common since he started working as election director.
"My sense is that the trend in my 11 years is to see more uncontested races, compared to contested," he said. "There seem to be fewer people who are interested in running for public office."
Source link